DIY Garage Door Insulation Installation Brisbane
✔️ Keeps Heat Out In Summer
✔️ Keeps Heat In During Winter
✔️ Excellent R Rating
✔️ Reduces Noise
✔️ Looks Great


✔️ Easy to Install
✔️ No Tools Required
✔️ Fast Delivery
✔️ Exceptional Customer Service
Top DIY Garage Door Insulation Installation Brisbane
Are you looking for DIY garage door installation in Brisbane? It can definitely beat buying a new garage door or trying to make repairs yourself. Garage doors are heavy, awkward, and cumbersome to install and repair. And you should not have to call an expert merely to install insulation on your garage door. It's a waste of money given the options available.
This is one of the reasons why we at KoolDoor have provided a product that removes all of the messiness and cost associated with garage doors and have replaced it with an easy solution. Insulating your garage has a tonne of benefits and if you can use a pen and paper, you can use KoolDoor. The measurements are the hardest part.
KoolDoor is easy to install. NO tools required. All you need is a tape measure, straight edge & a sharp Stanley knife.
Call us on 1300 37 38 39 for an easy DIY garage door insulation installation in Brisbane. We ship nationwide.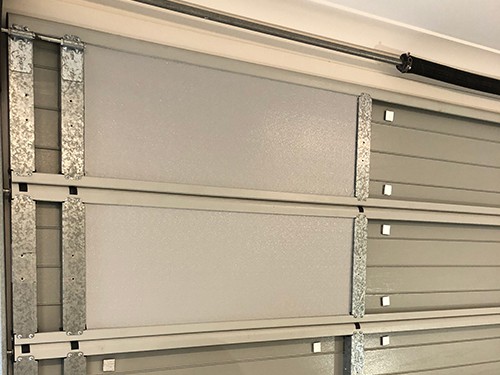 How do I install KoolDoor?
KoolDoor is quite easy to install. We have detailed installation videos indicating how the product is to be installed. It is basically broken down into 5 easy steps – measure the panel, write down the measurements, cut the panel, install the spacers, and fit the panel. KoolDoor was designed to be easy to install, and you don't need to be an expert to avail of the many benefits.
How long does it take to install KoolDoor?
It should not take longer than 3 hours to install KoolDoor, though it will depend on how big the garage door is and how carefully you take the measurements. You will also want to run through the videos on our website to see how the process works and to understand all of the benefits of this product.
What tools do I need for a KoolDoor DIY garage door insulation installation in Brisbane?
You do not need any sophisticated tools or techniques in order to install KoolDoor. You just need to be able to take the measurements, cut the installation, and place it on. You will need a pen, paper, a straight edge, and a Stanley knife. That's it!
Can I hire a professional instead?
We actually recommend that you do it yourself. All it takes is a couple of hours of your time and the most basic of tools. However, if you want us to complete the install, we can do this as well. We have professional installers in QLD, NSW, VIC, SA, TAS & WA. If you'd rather hire a professional, call us on 1300 37 38 39 to see if there is an installer near you. We ship nationwide so no matter where you are, you can get your garage door insulated.
Why should I insulate my garage door?
In many homes, the garage is an overlooked area. Many Australian homes may have excellent insulation in their main home, but very poor insulation in the garage. And the cold/heat can easily make its way to other areas of the home if the garage is attached. Even within the garage, the door itself is a point of weakness. It is where most of the damp and moisture come from. 
With a simple KoolDoor installation, you can insulate your garage so it is fit for a variety of other purposes. You might decide to make it into an office, gym space, or even a spare bedroom. Without insulation, you are throwing money away on electricity, trying to heat up an area that will not retain the heat. Even if you want to simply use your garage with the initial purpose of housing your car, insulation is a great idea. 
For high-quality DIY Garage Door Insulation Installation in Brisbane, call KoolDoor today on 1300 37 38 39!
What could you do with an Extra Room?
A garage is one of the most under utilised room's in a home. Comfort is an issues for most garages being too hot in summer or too cold in winter.
KoolDoor will transform your garage into a usable room for all your hobbies, home office, workshop, kids playroom, an extra pet room, your gym or your much anticipated man cave.
KoolDoor is very easy to install. There are no special tools required and all you will need is a tape measure, a straight edge and a sharp Stanley knife.
KoolDoor can be delivered Australia wide, but we also have professional installers in Qld, NSW, Vic, SA, Tas & WA. If you'd rather hire a professional, call us on 1300 37 38 39 to see if there is an installer near you.
KoolDoor l is very easy to install. There are no special tools required and all you will need is a tape measure, a straight edge and a sharp Stanley knife.
KoolDoor can be delivered Australia wide, but also has professional installers in Sunshine Coast, Brisbane, Gold Coast, Mackay, Townsville and Cairns. If you'd rather hire a professional, call us on 1300 37 38 39
What Our Clients Are Saying...
I had Kooldoor installed in my panel lift garage door, I am so happy with the result. The Garage is far cooler than it was before, I was surprised how much heat was coming through the door and what a difference KoolDoor makes. The installer was great and explained the process and the product ( and that its is Australian made), the panels are lightweight and the install took no time at all. The inside of the Garage door looks great with an off white aluminium finish, now I can set the garage up as a Play room for the Grand kids and I can dabble in my art work whenever I like. I would recommend KoolDoor and commend the company for such a great Innovative product.
Our garage door faces west which makes our garage really hot in summer but since we've had kooldoor installed the temperature difference has been quite amazing. Wish we'd had it installed sooner! The guys are easy to get on with and we highly recommend them!
The KoolDoor Garage door insulation is brilliant. I have installed a few different systems over the years & this one is by far the easiest & best looking & the performance is fantastic. Look forward to installing the next one.
Highly recommend Kooldoor, Dave was really easy to communicate and deal with, the insulation panels have made a considerable difference to my garage temperature. thanks guys! great service and a great product! can't ask for much more than that.
After ordering our 16 panel system, it arrived 24 hours later. Fantastic service with a fantastic product. Our door faces due west with direct sun and the difference with the panels is remarkable. Thanks.
Construction
KoolDoor is made from a PIR (Polyisocyanurate) foam core with heavy duty decorative foil laminated to both sides, with the inside foil face having an off white coating. KoolDoor is light weight & designed to be fitted into either new or existing sectional garage door panels. This will provide superior energy efficiency of the door via the high thermal & reflective properties of KoolDoor as well as providing a clean aesthetically pleasing internal finish.
Thermal
Fire
Sound
DIY
General Specification
| Features | KoolDoor Polyiso Foam | Competitors Polystyrene |
| --- | --- | --- |
| Double sided foil which stops the heat or warmth from leaving the garage | | |
| Higher density foam which decreases sound transfer | | |
| Lower risk of combustibility - Safer choice in a fire | | |
| 15 degree temparature difference between an insulated and uninsulated door | | |
| 40% More thermal efficient | | |
Write Down The Measurements